Professional Wildlife Removal
Here's how Thomas Pest Services provides ongoing wildlife protection:
Inspection.

After a thorough inspection and analysis, we determine the following: What is that noise? Where is it living? How is it gaining entry? What can be done? How can we prevent this from reoccurring?

Removal.

We will rid your home of animals that have taken refuge in your attic, crawlspace, or chimney flue or have found their way inside your walls or under your home. Using industry-accepted wildlife trapping and removal methods that are practical, humane, and legal. Our paramount goal is to safely capture the critters while minimizing any distress and further damage by utilizing traps, placing deterrents, or exclusion.

Damage Repair.

Once removed, we will properly identify where wildlife are gaining entry and develop a custom, tailored plan to prevent a future problem. Thomas Pest Services also has the ability to clean, and sanitize the area consisting of droppings, urine, nesting, and feed sites.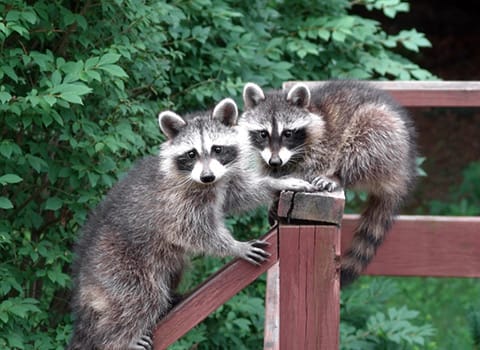 Common Wildlife Risks and Threats
The following are common wildlife threats that upstate New York residents should be aware of:
Wild animals can reproduce quickly

. Ignoring a wildlife infestation could result in several litters or broods, depending on the pest.

Wild animals can cause property damage

. They chew on gutters, gas lines, insulation, and wiring.

Wild animals are messy

. They leave behind decaying carcasses, feces, nests, and urine. In addition to foul odor, bodily waste can carry harmful viruses and bacteria.

Wild animals can carry diseases and parasites

. Some can even be infected with rabies including bats, groundhogs, raccoons, and skunks.

Wildlife animals can be unpredictable and become aggressive

. This is especially true if they feel threatened.
Common Nuisance Wildlife in Upstate New York
Wild animals in Albany and the Capital District, the Adirondack, and the Hudson Valley regions are common pest issues, especially when temperatures drop. Here is a list of common wildlife animals that may be looking toward your Upstate New York home for food and shelter:
How To Keep Wild Animals Away From Your Property
When it comes to dealing with wild animals, preventing them is key. Here are some of the best wildlife prevention tips provided by the team at Thomas Pest Services:
Keep your yard clean and maintained

. This means making sure garbage cans are tightly sealed and cleaning up debris piles.

Make sure your chimney is covered

. Wild animals can access your home through the chimney, and even nest there. Protect your chimney and keep wild animals out by installing chimney caps, nettings, and screens.

Cover all other openings around your home

. Use wire mesh cloth or screening on openings including attic vents, dryer vents, and soffit vents.

Protect your deck or other spaces beneath raised porches

. Wild animals like to nest here because they are safe from both weather and predators.

Protect gutters

. Wildlife may think gutters are a safe place to nest. Keep them out by investing in gutter guards.

Prune trees and landscaping

. Tree branches and shrubbery located close to your roofline provide easy access for wildlife. Make sure you trim back tree branches and bushes.
Signs Of A Wildlife Infestation
Even if you follow steps to prevent wildlife, it is important to look for signs of a possible wildlife pest infestation, particularly in the fall and winter as animals look for a place to stay warm. These include:
Gnaw marks on wires, insulation, or walls

Droppings/feces in the attic or garage

Scurrying sounds in the walls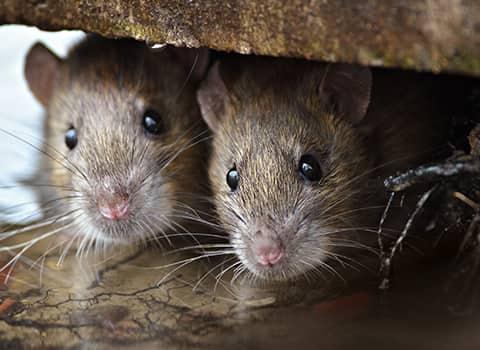 When to Call Wildlife Removal Professional
A wildlife infestation can get out of control very quickly! Although you may be tempted to try DIY wildlife removal (traps, chemicals, etc.), it can be a risky business. Wildlife problems and/or rodent problems should be handled by a licensed and professional company. Here's why:
We will not only remove the animal but look for the signs of a more serious problem (e.g., the single animal that has been captured is just one of many).

We will humanely remove wildlife from your property and home.

We will clean up after animals and prevent wildlife from returning.

Bat Control
Having trouble with bats? Thomas Pest Services offers professional bat control services to help remove bats from your structure and make sure that they cannot come back.

Rodent Control
Capturing just one mouse in the house will not conquer your rodent problem. At Thomas Pest Services, we offer professional rodent control services to get rid of rodents and eliminate rodent infestations for good.

Pest and Rodent-Proofing
At Thomas Pest Services, we specialize in creating pest and rodent-proofing plans that integrate home repair to preserve and protect your home from common nuisance wildlife and rodents found in the Capital Region and Hudson Valley areas.
Contact a Local Licensed Wildlife Removal Expert Today
Thomas Pest Services is a family-owned and operated pest control service provider serving Albany, Troy, and the rest of the Capital District as well as the Adirondack region. We have three decades of experience and are accredited by the National Pest Management Association (NPMA). Our skilled technicians provide the services you need to remove a problem squirrel in the attic or develop strategies to rid your property of multiple types of wildlife. Contact us today to learn more about our pest control and wildlife removal services near you in:
Request Your Free Estimate