Wildlife Removal
Wild animals may come calling in search of food and shelter but bring disease and destruction into your life.
To ensure the health and safety of your family, wildlife should be kept far away from your living space. Thomas Pest Services offers the solutions you need to remove them safely from your property and keep them from returning.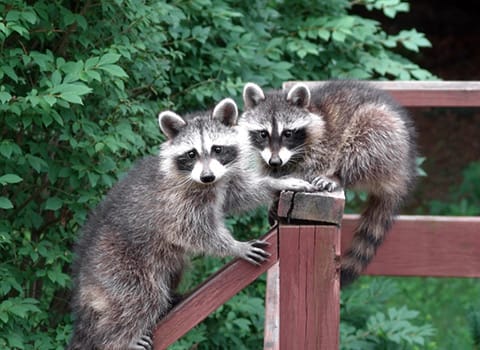 Humane Removal Methods for Nuisance Wildlife
Our highly trained and certified wildlife control experts understand animal behavior and use this knowledge to evaluate for wildlife intrusions and determine the most effective removal and control solutions. Our experts provide humane control options, which range from: catch and release (off site and approved release spots) to eviction and prevention. Upon completion of the removal process, we can also repair the damage caused by the animals and seal the home to prevent their re-entry into your structure.
How We Provide Ongoing Wildlife Protection
Inspect. After a thorough inspection and analysis we determine the following: What is that noise? Where is it living? How is it gaining entry? What can be done? How can we prevent this from reoccurring?
Remove. We will rid your home of animals that have taken refuge in your attic, crawlspace, chimney flue or have found their way inside your walls or under your home. Using industry-accepted wildlife trapping and removal methods that are practical, humane, and legal. Our paramount goal is to safely capture the critters while minimizing any distress and further damage by utilizing traps, placing deterrents or by exclusion.
Damage Repair. Once removed, we will property identify where wildlife are gaining entry and develop custom tailored plan to prevent a future problem. Thomas Pest Services also has the ability to clean, sanitize the area consisting of droppings, urine, nesting and feed sites.
Thomas Pest Services is a family-owned and operated pest control service provider serving Albany, Troy and the rest of the Capital District as well as the Adirondack region. We are accredited with the National Pest Management Association and our skilled team members can provide the services you need to remove a problem squirrel in the attic or develop strategies to rid your property of multiple types of wildlife. Schedule your free inspection or simply give us a call to discuss your wildlife problem.
Request Your Free Estimate