Professional Rodent Removal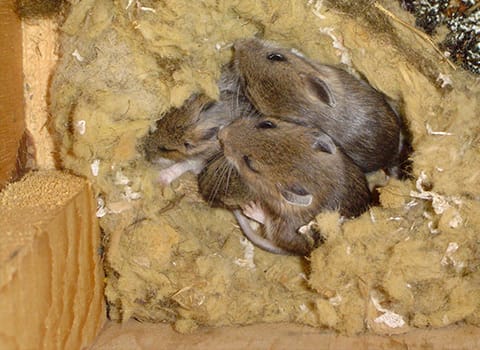 Upstate New York Rodent Control Experts –
Say Goodbye to Mice and Rats for Good!
Thomas Pest Services offers effective solutions for ridding your home of rodents once and for all in Albany and the Capital District, the Adirondack, and Hudson Valley regions! Commensal rodents are a group of mice and rats that have become somewhat reliant on humans for survival, especially when it comes to food and shelter sources. This means they enter your home or business as an unwanted guest, and it's really hard to get them to leave once they are comfortable. Our experienced team of rodent control experts will provide you with the most effective strategies to end their residency within your home. Reach out to receive your no-charge rodent audit to eliminate problem rodents from your property.
Free Estimate OR CALL (518) 458-7378
Why Rodent Removal is Important
Rodents are destructive pests, and they also breed very quickly. Aside from that, many rodents can carry harmful pathogens that can spread disease. This means both direct and indirect contact with rodents, including their droppings and urine, can put humans, as well as your pets, at risk.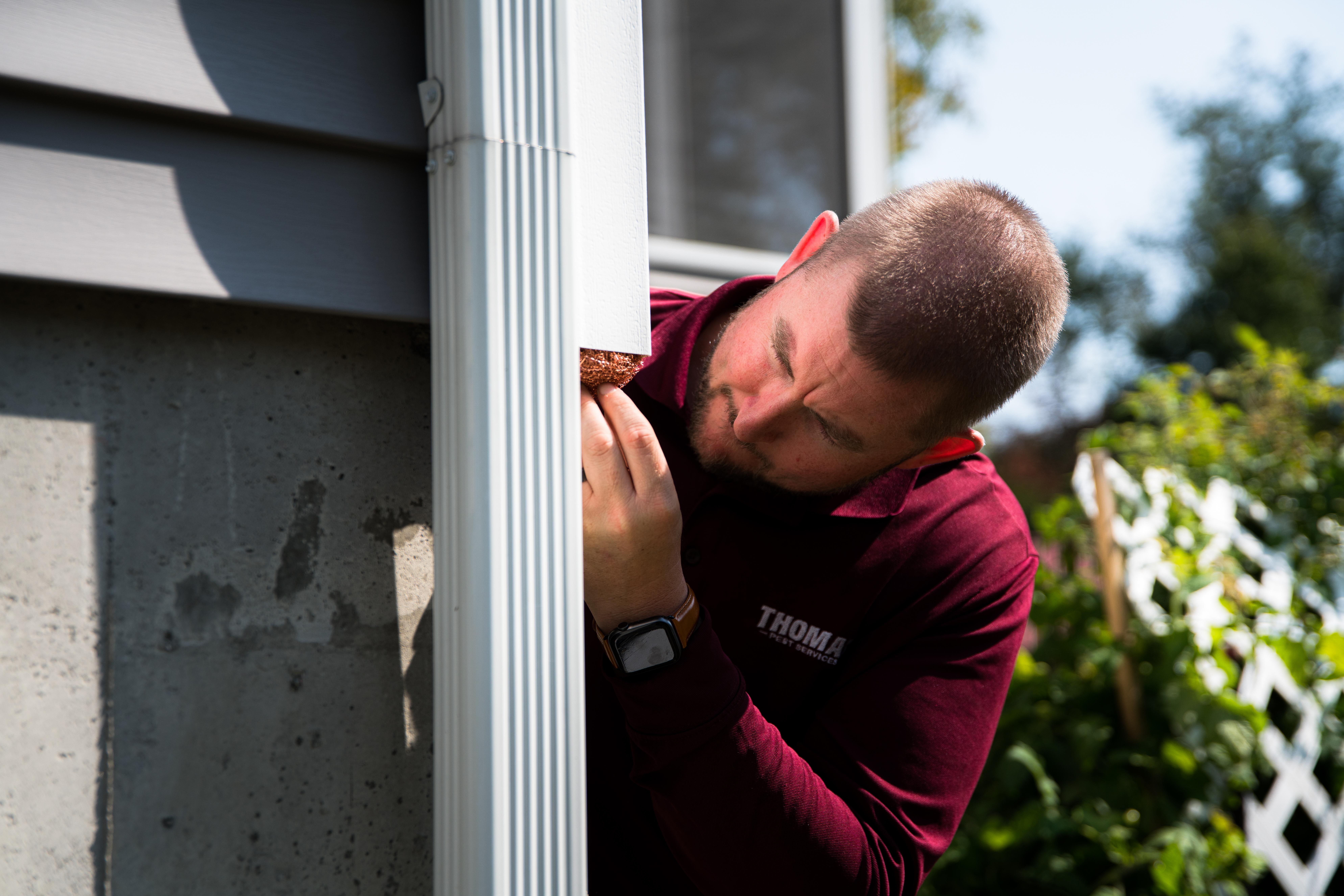 Residential Rodent Control
Capturing just one mouse in the house will not conquer your rodent problem. Here's how Thomas Pest Services offers a customized approach to helping you get rid of rodents in your home:
Inspection.

Initially, our pest control specialists will inspect your home and property to identify problem areas and potential nesting areas. Our team will then consult with you directly to recommend the best methods for treating the pest problem.

Removal.

Our pest control solutions may involve trapping, baiting, and professionally installed monitoring stations.

Prevention

. In addition to the removal of problem rodents, our team will also identify the access points rodents are gaining entry into your home. Once a point is identified, our professional technicians will properly seal the area to prevent additional access.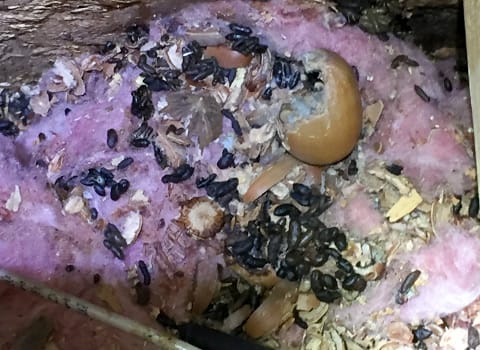 Rodent Cleanup and Sanitation Services
After the rodent treatments are applied throughout your home, our professionally trained specialists will sanitize affected areas of your home to remove harmful droppings. Proper cleaning protects your family from feces-related diseases. Droppings and dead rodents will be removed and specialized equipment will be used to clean and sanitize your home to keep your family safe and reduce odors that may attract other pests.
Thomas Pest Services also offers re-insulation services for areas damaged by rodents and their droppings. Our team will inspect the insulation in your attic and other areas of your home, removing hazardous materials and installing new insulation. This insulation will not only deter rodents it will also offer energy-saving benefits for your household. The specially-developed Thermal-Acoustical-Pest Control insulation is available only to the pest control industry and will be installed by our well-trained pest control specialists.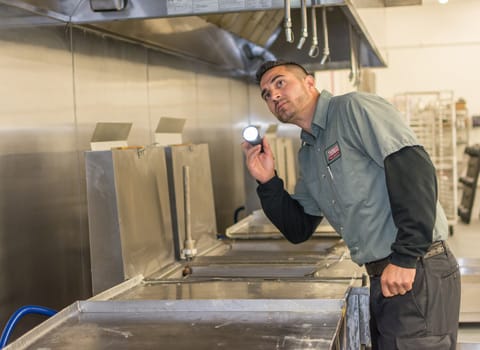 Commercial Rodent Control
At Thomas Pest Services, we also offer commercial solutions for mice and rats both inside and outside of your business or commercial property. These services are ideal for warehouses, office buildings, hotels, and hospitals. Here's how it works:
First

, we'll conduct a thorough inspection to determine the scope of the infestation.

Second

, we'll identify areas where rodents are gaining access.

Third

, we'll determine what type of solution best fits your facility.
Our rodent control experts don't just eliminate activity; they protect health and property by making sure rodents are not given the chance to re-infest. Our customized commercial rodent control solutions include:
Installation of professional outside monitoring stations to eliminate rodent activity outside of the facility

Installation and maintenance of mechanical devices in rodent-prone areas

Ongoing visits designed for the maintenance of interior and exterior rodent control stations and to prevent rodent populations from reestablishing in and near facilities

Professional rodent proofing - also referred to as exclusion work

Environmental management to remove mouse droppings as well as fecal matter from other rodents
Common Rodents in Upstate New York
There is no shortage of rodents in New York, including here in Albany and the Capital District, the Adirondack, and the Hudson Valley regions. Here is a list of common upstate New York rodents we are concerned about because they get into homes and businesses and cause all sorts of problems:
How To Keep Rodents Out Of Your Home
Did you know that a mouse can fit through a hole the size of a dime, and some rats can fit through holes the size of a quarter? Rodents are opportunistic, and they will make their way into your home if they have an opportunity. The key to rodent-proofing your home is to make it less attractive and inviting for them. Be proactive! Here are some rodent prevention tips:
Start with an inspection

. Walk around the outside of your upstate New York home and look for small spaces rodents may use to gain access into your home (e.g., cracks in your eaves, foundation, and windows).

Seal potential entry points.

This includes cracks and holes on the outside of your home, including areas where utilities and pipes enter the home. Use caulk, steel wool, or a combination of both.

Cover all other openings around your home

. This includes

screen vents and openings to chimneys, installing door sweeps on exterior doors, and repairing any damaged screens.

Eliminate all moisture sites.

This includes clogged drains and leaking (good breeding sites). Plus, keep attics, basements, and crawl spaces dry and well-ventilated.

Clean up any debris on your property

. This includes storing firewood at least 20 feet away from your home. Also, make sure outdoor trash cans are sealed.

Prune trees and landscaping

. Tree branches and shrubbery located close to your roofline provide easy access for rodents. Make sure you trim back tree branches and bushes.

Keep your house clean. This includes regularly disposing of garbage, keeping food tightly sealed in containers, wiping down counters, and sweeping and mopping floors.
Signs Of A Rodent Infestation
Even if you follow the rodent prevention tips listed above, it is still important to keep your eye out for a possible rodent infestation, especially in the fall and winter when rodents like to warm up inside your home. Signs of a rodent infestation include:
Spotting live or dead rodents

Droppings

Gnaw marks

Scratching noises
Unusual pet behavior

Stale odors

Runaways

Nesting materials
When Should You Call A Professional Rodent Removal Company?
You may be tempted to remove rodents in your home or commercial by yourself, but DIY rodent removal can be tricky or even dangerous if not handled properly. Here are five reasons why you should hire a professional rodent removal company:
We know effective rodent control - where to place devices and what measures need to be taken

We have the equipment and knowledge needed to address rodent infestations.

Our technicians are trained in rodent behavior meaning we can find and seal all cracks and crevices that allow rats and mice entry into your home.

We use sanitary equipment (e.g., gloves, masks, respirators, and other protective gear) to help clean up after an infestation.

We keep the specific needs of your household in mind.

What should you do if you discover bats in the attic, roosting in the eaves, or lurking elsewhere in your structure? Contact Thomas Pest Services about our professional bat control services.

Wildlife Control and Removal
Capturing just one mouse in the house will not conquer your rodent problem. At Thomas Pest Services, we offer professional rodent control services to get rid of rodents and eliminate rodent infestations for good.

Pest and Rodent-Proofing
With decades of experience under our belt, the team at Thomas Pest Services has collectively worked to turn pest-proofing a home - sometimes referred to as exclusion - into a science. We offer pest and rodent-proofing plans to preserve and protect your home from common nuisance wildlife and rodents found in the Adirondack, Capital Region, and Hudson Valley areas.
Contact a Local Rodent Removal Expert Today
Call Thomas Pest Services today to receive your no-charge rodent audit to eliminate problem rodents from your property. We serve residential and business customers in the Hudson Valley, Capital District, and the Adirondacks. Let our rodent control experts restore your home to a safe and healthy place to live. Learn more about our pest control services in:
Request Your Free Estimate