Sentricon Termite Colony Elimination System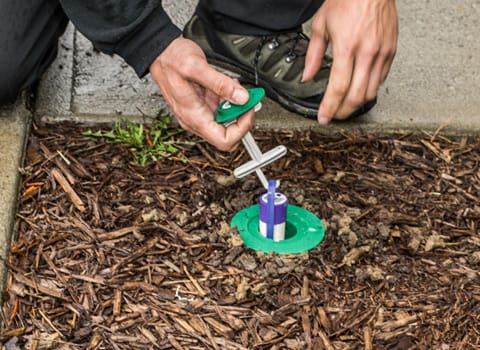 What Is The Sentricon® System?
While there are other termite control options in Upstate New York utilize other methods to control termites, Thomas Pest Services is proud to offer our customers the Sentricon® Termite Colony Elimination System. With its proven record, the system not only eradicates foraging termites but also destroys the entire termite colony.
The Sentricon System Stops Termite Damage & Exterminates Termite Activity
Strategically placed in soil along the exterior of your structure, the Sentricon System starts working immediately to eliminate termite activity and prevent new colonies from establishing. This termite baiting system utilizes Always Active technology and Recruit HD termite bait which is:
Immediately available to termites when they enter the stations.

Available all the time to eliminate termite colonies and protect against future invasions.

The bait is highly durable and dense, allowing it to stand up to a tough environment.

Studies show, our bait is preferred by termites over wood, so they devour it faster than wood, and find it even more desirable as it ages.
Why More People Prefer Sentricon® To Get Rid Of Termites
The Sentricon® System was developed with the environment in mind. Non-invasive, termite control experts do not have to drill or trench around your home, nor do they need to apply hundreds of gallons of chemical solution around your property. Safe to use around your yard, family, pets and the environment, it is the best choice in termite control and has received the Presidential Green Chemistry Challenge Award and is currently protecting the White house, Statue of Liberty and more. Sentricon's proven performance to eliminate termites combined with Thomas Pest Services' experience ensures that you are provided with the comfort you need.
Request Your Free Estimate