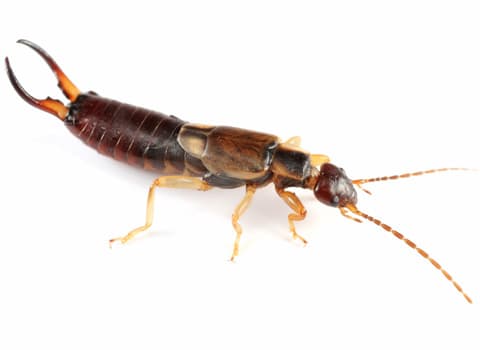 What do earwigs look like?
Earwigs or as they are commonly known as "pincher bugs" are dark to reddish brown in color, can be winged or wingless and have a long smooth body with a pair of pincher-like appendages at the end of their abdomen.
Are Earwigs dangerous?
Earwigs are probably best known for the nightmares they cause from the myth that is associated with them. The myth is that they crawl into sleeping peoples ears and burrow into their brains in order to lay their eggs, luckily you can sleep soundly tonight knowing that this is completely false. Even though they have the ability to pinch they rarely if ever do and are considered to be nuisance pests.
Why do I have an earwig problem?
Earwigs are generally found outdoors but if the weather becomes too hot or dry they will look to move indoors. They are partial to humid areas like bathrooms, kitchens and basements. Once inside your home they will become active at night feeding on decaying plant material and other insects that may be in your home. They can also be brought inside accidentally on newspapers, packages and on other outdoor items.
How do you get rid of earwigs?
For relief from earwigs and other occasional invaders, contact Thomas Pest Services. We offer home pest control services that target common household bugs (and rodents) including earwigs.
Earwig prevention tips
To prevent earwigs from entering your home or structure you should:
Caulk gaps around windows and doors and seal any cracks in the foundation.

Reduce humidity in basement areas using a de-humidifier

Fix leak pipes or faucets

Replace torn or ripped screens in exterior windows or doors

Shake off the newspapers and mail before bringing them inside.
Request Your Free Estimate