Scott Nadler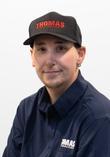 Service Supervisor
- Since 2020
About Scott
Hi, I am Scott!

I came into the pest management industry when I joined Thomas Pest Services. I am excited to learn more about the industry and my favorite pest, bees.

When I am not working, I am spending time with my wife and dog, Porter. I enjoy watching movies', working on my house (there is always a to do list) and making beer!

My daily goal is to help all customers with there pest concerns.