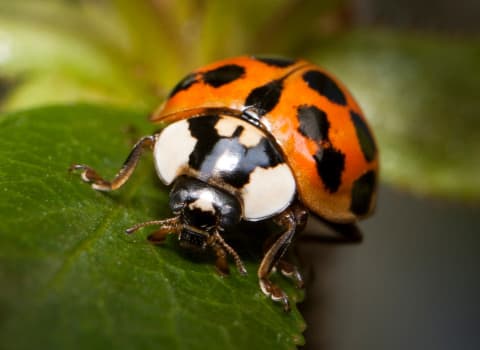 What do lady bug look like?
Lady bugs have a very distinct appearance; their body is shaped similar to half of a pea, oval and convex. They are red in color with 6 black spots in each wing.
Are lady bugs dangerous?
Lady bugs do not pose a danger to humans; they do not bite or sting. Lady bugs may cause damage to the walls of your home, when they are stressed or disturbed and may leave yellow markings behind.
Why do I have a lady bug problem?
Lady bugs seek shelter inside of home and other buildings in the late fall months in order to find a safe, warm spot to overwinter. A warm winter day may bring them out of the wall and you are likely to notice a large increase again in the spring when they move back outdoors.
How do I get rid of lady bugs?
Give Thomas Pest Services a call to get rid of lady bugs in your home. Our residential pest control services are designed to eliminate common household pests including lady bugs and we'd be happy to provide a free estimate. Serving Albany and the Capital District as well as the Adirondack region, our experts have the knowledge and tools to resolve your pest problems.
Lady bug prevention tips
To prevent lady bugs from invading your home, you should:
Make sure that any cracks and crevices in your home's foundation are sealed.

Replace or repair screens that are torn or ripped.

Caulk gaps found around exterior windows and doors.
Request Your Free Estimate