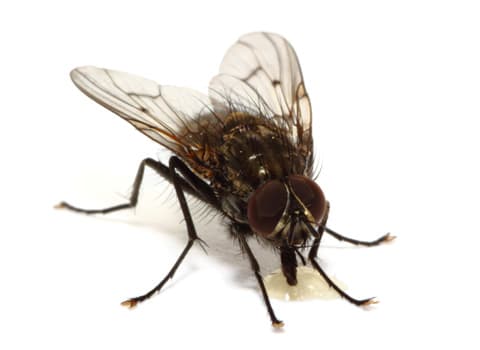 What do house flies look like?
House flies are dull gray in color and are about 1/8th-1/4th of an inch in length; females are larger than the males. They have black vertical lines on the top of their bodies. Adults have two stripes on their face; one stripe is silver, and one is gold in color.
Are house flies dangerous?
Yes, house flies are considered to be dangerous. House flies land and feed on garbage and feces. Consequently, when they get into your home they will introduce bacteria and diseases from those items to you and your family.
Why do I have a house fly problem?
House flies are drawn to homes because they are looking for access to food and water sources. They are often attracted to feces, garbage, leaky fixtures, and compost piles. They will enter into your home through torn screens, gaps found around windows and doors, and any other small opening that acts as an entrance into your home.
How do you get rid of house flies?
Contact Thomas Pest Services if you need help getting rid of house flies. We offer services for house fly removal through our residential pest control programs. Our experts will eliminate your entire fly infestation and offer solutions to prevent future problems with house flies and other pests.
House fly prevention tips
To prevent house flies from entering your home or structure you should:
Store outside garbage cans away from the exterior of your home and make sure they have tight fitting lids.

Caulk gaps found around exterior windows and doors.

Replace screen windows that are ripped or torn.

Fix any leaky faucets or pipes found in your home.

Make sure that doors and windows are not left open for long periods of time.
At the first sign of a house fly problem, contact Thomas Pest Services for help eliminating them from your home as quickly as possible!
Request Your Free Estimate