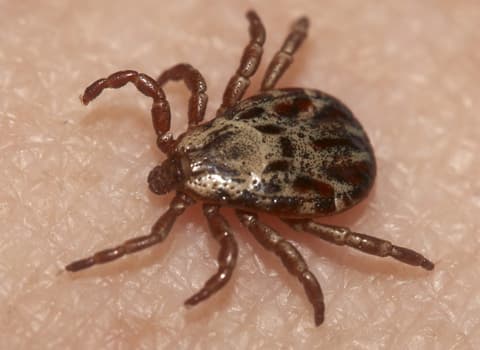 What do ticks look like?
In our region there are a few types of ticks and they all vary in color and size. The most commonly encountered ones in New York are listed below along with a brief description.
Black-legged tick (deer tick) - They are a very small species that is reddish brown in color. They are commonly found in wooded areas and are probably the most known as they are transmitters of Lyme disease.

Lone-Star tick (wood tick) – They are reddish brown in color, the females have one distinctive white spot on their back; males do not have a white spot but instead will have smaller multiple white spots on their backs. These ticks are also found in wooded areas.

American dog tick- This is a larger species of tick, they are reddish brown in color with white or yellow markings on them. These ticks are found in parks, fields and along wooded paths.
Are ticks dangerous?
Yes, ticks are dangerous to both people and pets. They spread a variety of serious diseases including Lyme disease and Rocky Mountain spotted fever.
Why do I have a tick problem?
Ticks are most often brought onto your property by wild animals. Once they are on your property, your pets and even family members could bring them inside. Ticks have a tendency to climb up on foliage and then drop onto unsuspecting hosts as they pass by.
How do you get rid of tick?
If you've found a tick in your home or even in your yard, contact Thomas Pest Services right away. Because of the health risks associated with some types of ticks, you do not want to have them hanging around. At Thomas Pest Services, we offer tick control in Albany and throughout our service area.
Tick Prevention Tips.
We recommend the following tick prevention tips:
Keep grass cut short, and keep wooded areas trimmed back from your property.

Make sure that your pets are treated with tick preventative. (Talk to your vet about which treatment is best for your pet)

Check yourself and clothing after spending time outdoors in your yard or wooded areas before going inside your home.

Take down bird feeders and other items that will attract wildlife to your property.
Request Your Free Estimate