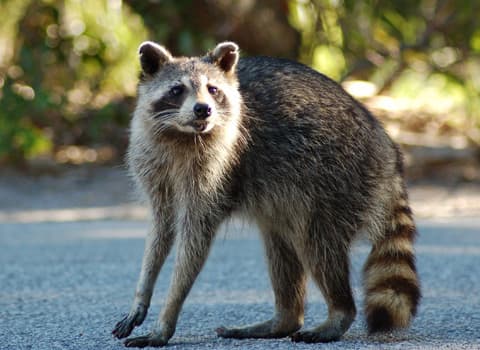 What do raccoons look like?
It seems appropriate that these critters look like masked bandits; they sneak into homes, pilfer food and water causing quite a mess in the process. Raccoons have grayish brown fur with black markings and are easily identified by the black mask on their face and the bushy tail with black rings.
Are raccoons dangerous?
Raccoons can be quite dangerous to people and may become aggressive, especially if cornered or threatened. They can also carry rabies and other pathogens that threaten the health and safety of people and pets. In addition to the risk they pose to us, raccoons can cause extensive damage to structures, building materials and possessions. They often nest in attics, chimneys and crawlspaces leaving behind feces and urine as well as introducing fleas and other mites.
Why do I have a raccoon problem?
Raccoons are constantly searching for food and shelter and if your home or business can accommodate their needs; they are likely to show up. Pet food left out, unsecured trash cans and other food sources as well as easy access to the inside of the home can attract these critters.
How do you get rid of raccoons?
Contact Thomas Pest Services if you need help getting rid of raccoons. We offer wildlife removal services in Albany, Saratoga and throughout our Capital District and Adirondack service area and are ready to help you evict nuisance and potentially dangerous raccoons with humane trapping. When you contact us for wildlife control, we can also help you repair the damages they cause and prevent these pests and others from gaining entry in the future.
Raccoon prevention tips
To prevent raccoons from entering your home or structure, you should:
Seal any openings on the exterior of the dwelling.

Repair any loose shingles or fascia boards.

Cap chimneys and install mesh covers over vent.

Trim back trees branches so they don't touch rooftops.

Remove bird feeders and other food sources outside; this includes pet food kept outdoors.

Store trash in durable garbage cans with tight-fitting, secure lids.
At the first sign of a raccoon problem, contact Thomas Pest Services. We provide wildlife removal services in Albany, Saratoga as well as the Capital District and the Adirondack region and can help you resolve your wildlife problem, no matter how severe. We also offer exclusion services that correct the conditions that attract these animals as well as in the first place.
Request Your Free Estimate