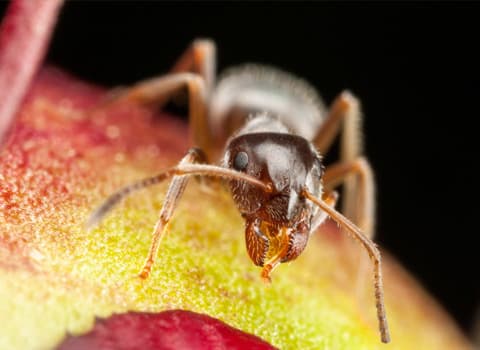 What do pharaoh ants look like?
Light reddish-orange in color, these tiny ants may also have black areas on their abdomens. Worker ants are approximately 1/16" in length while queen pharaoh ants are larger. Like other ants, pharaoh ants have antennas and bodies that are divided into three parts, the head, thorax and abdomen.
Are pharaoh ants dangerous?
Pharaoh ants do not sting but they can bite and though bites are not poisonous, they may be painful and could transmit disease and contaminate sterile materials and areas. In fact, pharaoh ants can be quite a problem for hospitals and other healthcare facilities. Another problem associated with pharaoh ants is their ability to cause extensive damage to wooden structures when they nest within.
Why do I have a pharaoh ant problem?
Like many of us, pharaoh ants are not a fan of cold weather and in fact cannot outside during the winter months. For that reason, they will seek out shelter that is consistently warm. Their strong desire for moisture and foods high in protein will also send them into dwellings. Unlike other types of ants in New York, pharaoh ants are not big on sugary foods but with that said will eat just about anything which means that crumbs and spills in the kitchen could attract these pests.
How do you get rid of pharaoh ants?
In order to get rid of pharaoh ants, a very thorough inspection must be completed to determine where workers are trailing and where the parent nest is likely to be. Effective ant control is best performed by trained pest control professionals who have the tools and knowledge to find and eliminate the foraging ants as well as the entire colony. If you've found ants in the kitchen or elsewhere in your structure or on your property, please contact Thomas Pest Services. We offer comprehensive pest control for ants in the Capital District and Adirondack region that exterminates the existing infestation and prevents ants from returning.
Pharaoh ant prevention tips
To prevent pharaoh ants from entering your home or structure, you should:
Address areas where there are moisture problems.

Remove food sources including pet food.

Store all leftovers or open packages of food in plastic or glass containers with tightly sealed lids.

Clean dirty dishes often and avoid leaving them in the sink overnight or for any extended period of time.

Seal any cracks in the foundation or elsewhere on the exterior of the home.
At the first sign of a pharaoh ant problem contact Thomas Pest Services. A locally owned and family operated NY pest control company, we offer services in Albany, Troy and Saratoga as well as throughout our service area.
Request Your Free Estimate