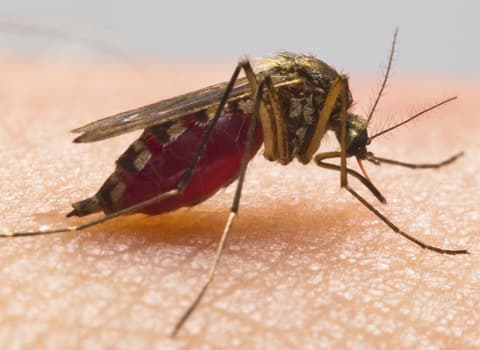 What do mosquitoes look like?
We think its safe to say most people know what mosquitoes look like and have incurred a mosquito bite or two along the way but did you know its only the females of the species that actually do the biting? It's true, while all mosquitoes have very long slender legs; only the females have stinger-like mouthparts that they use to facilitate feeding.
Are mosquitoes dangerous?
Yes, mosquitoes are dangerous. Though they are common summer pests, mosquitoes have the potential to threaten the health of people, pets and wildlife. They are known transmitters of the West Nile virus, Eastern Equine Encephalitis, and Chikungunya. They've also been responsible for spreading malaria, dengue fever and yellow fever. More recently mosquitoes and the Zika Virus have been making headlines and although the majority of the confirmed cases of Zika in the U.S have been travel associated, everyone should be aware of the status of the Zika virus in their own neighborhood, city, and state. For more information about the Zika virus in New York State, click here and visit the Zika virus page of the New York State Department of Health website and for information regarding the Zika virus in the United States, click here to go to the Zika virus section of the Center for Disease Control & Prevention's (CDC) website.
These biting pests are also a huge carrier of canine heartworm, which can make pets quite ill if a preventative treatment is not in use.
Why do I have a mosquito problem?
Water is an absolute necessity element for mosquito breeding; females only need a think layer of water in which to lay their eggs. Oftentimes this happens in water that accumulates in old tires, bird baths, baby pools, clogged gutters, really anywhere or in anything that collects stagnant water.
How do you get rid of mosquitoes?
While compete mosquito control is just not possible, our team of pest control professionals have the knowledge and tools to reduce mosquito activity on your property and as a result, the health risks associated with these pests. Providing mosquito control in Albany and throughout the Capital District and Adirondack regions, contact Thomas Pest Services to find out how we can help you fight mosquitoes.
Mosquito prevention tips
To prevent mosquitoes from invading your property you should:
Check your property regularly for standing water. Store baby pools, wheel barrows and other items inside or upside down so they do not collect water. Regularly change water in birdbaths and pet bowls.

Clear gutters of leaves and other debris.

Keep pools covered when not in use.

Keep grass cut short and do not allow other landscape elements to become too thick or dense.

Repair or replace window screens that have holes or tears.
Request Your Free Estimate