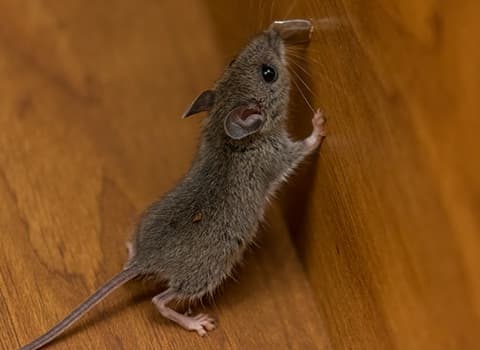 What do house mice look like?
If there is a mouse in the house it is likely a common house mouse. About 5 ½- 7 inches in length with large ears (compared to their bodies) these mice have small beady dark eyes. They range in color from gray to brown and have a light brown belly.
Are house mice dangerous?
Mice are very dangerous to have in your home. They carry a variety of diseases that can make you and your family very ill including Salmonellosis, Hantavirus, Leptospirosis, and lymphocytic diseases. While quite innocent looking, these critters are actually quite capable of damaging the structure of a home, building materials including drywall and insulation and electrical wire. Because they are always gnawing to keep their teeth short, it is very common to find damage to boxes, clothes and other household and personal items.
Why do I have a house mouse problem?
If food, water and shelter are readily available to mice, you can anticipate unwanted houseguests. Openings around garage doors and other entrances, cracks in the foundation and around utilities can also provide easy access for these pests. These pests can be especially problematic once the weather turns cold and once inside, mice rapidly multiply so that you could be facing a large rodent problem.
How do you get rid of mice?
If you've heard scurrying in your walls or ceilings, have spotted mouse droppings or other suspicious activity, our Albany rodent control pros can help! Serving the Capital District and Adirondack region, we also offer commercial rodent control for companies with mice and/or rats.
House mouse prevention tips
To keep mice as well as other rodents out of your home or business, our Albany pest control technicians recommend eliminating potential food and water sources as well as sealing openings that would allow pest entry.
Request Your Free Estimate