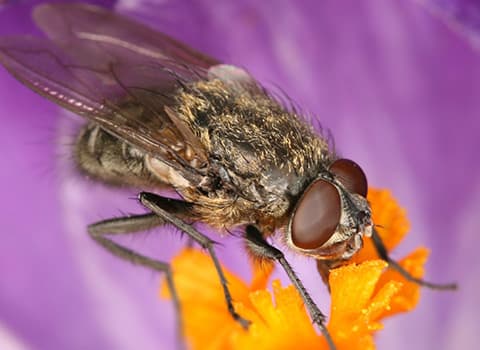 What do cluster flies look like?
Cluster flies look similar to a house fly but are slightly larger and darker in color; they have distinct irregular light and dark areas on their abdomen and short gold colored hairs on their thorax. Cluster flies are also much slower moving than other types of flies.
Are cluster flies dangerous?
Cluster flies do not sting or bite and are not considered to be dangerous and are considered to be nuisance pests. They also do not spread as much bacteria as other flies because they do not lay their eggs in human food but rather near earthworm burrows.
Why do I have a cluster fly problem?
Cluster flies enter into homes in the late summer or fall months in order to find a place to hibernate, often choosing attic spaces and wall cavities. Cluster flies can be difficult to keep out of your home because they can squeeze through very small spaces.
How do you get rid of cluster flies?
Please contact us today to get rid of cluster flies and other pests that have invaded your home. Our residential pest control services target common household bugs and rodents and we'd be happy to provide you with a free estimate.
Cluster fly prevention tips
To prevent cluster flies from entering your home or structure you should:
Seal cracks and crevices in your roofline; repair or replace loose or missing roof shingles.

Repair or replace ripped or torn window screens.
Request Your Free Estimate