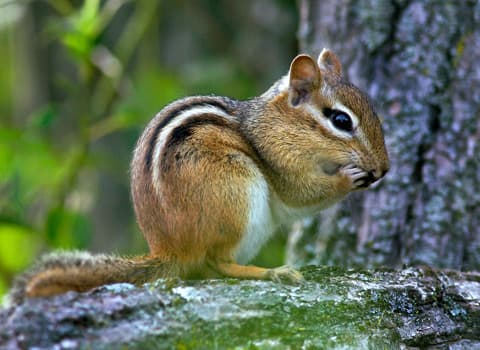 What do chipmunks look like?
Chipmunks are easily distinguished from ground squirrels by the alternating dark and light stripes (also known as dorsal stripes) running along their back, from head to tail. Smaller than squirrels, their tails are shorter than their body length and their movements are very jerky, quick and they start and stop often.
Are chipmunks dangerous?
Normally not a major pest problem, chipmunks are hosts to fleas, mites and other parasites and may cause damage to structures as well as flower beds and landscaping elements. Though not dangerous by any means, they have a tendency to annoy people with their loud chirping.
Why do I have a chipmunk problem?
Chipmunks eat flower bulbs and seeds so if you have gardens (vegetable and flower varieties) you are likely to have these critters on your property. They may also dig burrows under your home and find multiple ways to enter the structure.
How do you get rid of chipmunks?
If you have a chipmunk problem, please contact Thomas Pest Services for wildlife removal services. Available in the Capital District and Adirondack region including Albany, our trained wildlife control specialists will develop a plan to get rid of chipmunks and prevent them from re-infesting. Contact Thomas Pest Services for relief from your chipmunk problem today!
Chipmunk prevention tips
To discourage chipmunk activity around your home and property, you should:
Seal any openings on the exterior of the structure to exclude these pests out.

Remove bird feeders or place them at least 15 to 30 feet from the structure so spilled seed does not attract these animals.

Do not plant trees, shrubs and other landscaping elements in a way that they connect the woods to the structure.

Remove wood piles and other debris on your property that would provide above ground protection for chipmunks.
If you are experiencing chipmunk problems, contact the Upstate New York wildlife removal pros at Thomas Pest Services.
Request Your Free Estimate