Albany, NY Pest Control
Our Services
We service the City of Albany and surrounding Albany County for all of their pest control needs, including the following services:
Bat control

Bed bug control

Carpenter ant control

Mosquito and tick control

Termite control

Bee & wasp control

Wildlife control
Pests Active in Albany
Home Pest Control In Albany, NY
Homeownership can be a real challenge. Unfortunately, pests and the damages that they can cause should be on the top of the list but are often missed. Not only can it be dangerous to have a pest infestation in your home, but it can also be a nuisance and an embarrassment. You may have caught a few mice in a mouse trap under the kitchen sink or taken care of a spider or two but if you've not stopped the cause behind pests, they will return. Pest problems in your home are best left to the Albany pest control professionals at Thomas Pest Services. Our technicians have years of experience eliminating and preventing pest problems and our Complete Care program offers the absolute best in pest protection in the Capital City. We know what to look for and what to do so insects and rodents don't cloud your mind and prevent you from having time to dedicate to the things that matter most to you. Don't let mice, roaches, ants or other pests contaminate your home or eat their way through your investment, give the Albany pest control pros at Thomas a call today for all your home pest needs.
Albany Termite Control
It's hard to believe an insect as small as a termite can be so destructive but termites are credited with inflicting $5 billion in damages in the U.S. annually. They work day and night, eating away at your floor studs, support beams, drywall and more. One of the most dangerous things about termites is it can be tough to know you have a problem before it's a big problem. Termite damage can be costly and we don't want you to contribute to that $5 billion figure. When trying to eliminate a termite problem, you have to destroy the entire colony or they'll just keep coming back. That is why we use the Sentricon® System. Not only will this eco-friendly termite baiting and monitoring system destroy termites and their colony, but it will also keep them from ever getting into your home or business to begin with. When it comes to termites, defense is the best treatment and we have you covered there!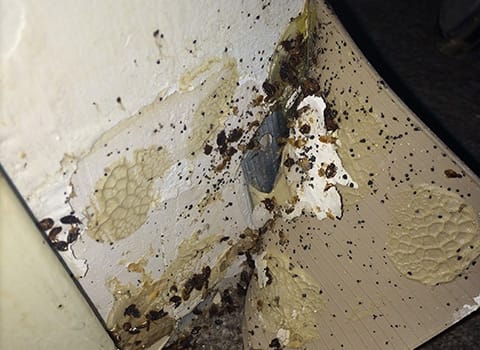 How To Get Rid Of Bed Bugs In Albany
It's like the pages out of a horror story; the thought of something biting you while you sleep is enough to make your skin crawl. That is what bed bugs are known for and why when people suspect a bed bug problem, they want them gone immediately! Bed bugs do not pose any known risks to humans, but they do bite. Bed bug bites typically leave behind itchy, red, rash-like bumps. Getting rid of bed bugs is not a do it yourself kind of pest problem. Bed bugs are not bothered by many pesticides and it can be very difficult to be sure you have gotten rid of them all. If you suspect a problem you should contact Albany exterminators that specialize in bed bug removal. You should call Thomas Pest Services. We know how to get rid of bed bugs quickly and completely. We can help you protect your home or business with highly effective bed bug heat treatments that take care of bed bugs and their eggs without the use of chemicals. For bed bug control in Albany, we also offer monitoring, protective covers for your mattress and box spring, training to know what to look for and more!
Have you ever gone to take your trash out and found your trash cans and litter strewn all over the yard or discovered other signs of a raccoon problem? How about ever experiencing that feeling you get in the pit of your stomach when you let the dog out and a few minutes later the smell of skunk fills your nose? There usually is a flurry of emotions when you stumble on to wildlife on your property. You may experience a feeling of frustration, a moment of surprise or shock, and even a disheartening feeling of fear. Don't worry you are not alone! Many people feel this way but you can trust in the Albany wildlife control professionals at Thomas to take charge of the situation for you. At Thomas Pest Service, we want to be sure the pests mentioned and other wildlife don't become a problem for your home or your business. You can rely on us to humanely remove raccoons, skunks, squirrels, bats, and other wildlife from your property. We will help you protect your property, rid your it of existing wildlife as well as take steps to ensure they're no longer a problem for you.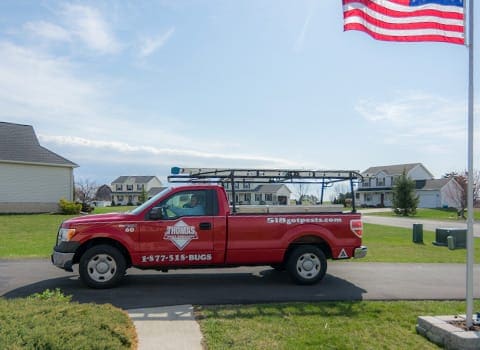 Full-Service Pest Management Solutions For Homes & Businesses
In addition to the pest control services mentioned above, Thomas Pest Services offers the following services and solutions:
Commercial pest control

Rodent control

Carpenter ant control

Green pest solutions

Mosquito & tick control

Bee & wasp control
Contact us today to learn more about our pest control in Albany, New York, the Capital District, and the Adirondack region.
Request Your Free Estimate