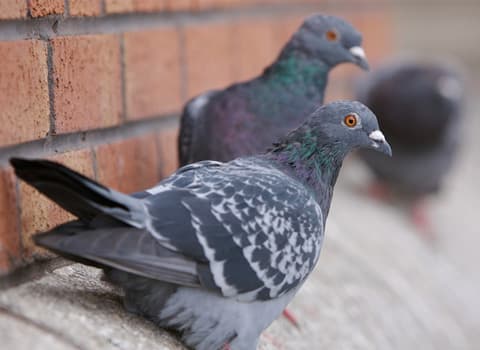 What do pigeons look like?
While we are pretty sure all New Yorkers are familiar with pigeons, we figured it couldn't hurt to add a brief description. Bluish gray in color with two black bars on each wing, color patterns can vary between domestic and wild species. Interestingly the species is monogamous and both parents will care for their young.
Are pigeons dangerous?
Pigeons are considered dangerous because of the large number of diseases that they can spread and the damages that they inflict on properties. Diseases that they carry include cryptococcosis, salmonella, toxoplasmosis; they can also grow a fungus in their feces that causes histomplasmosis. Their droppings can cause people to slip and fall and their feathers and nests can cause problems for equipment and machinery.
Why do I have a pigeon problem?
Pigeons are attracted to structures that offer safe shelter for nesting and roosting that is close to food and water sources.
How do I get rid of pigeons?
Contact Thomas Pest Services to get rid of pigeons in Albany or elsewhere in the Capital District or Adirondack region. Our bird control professionals are experts in eliminating pigeon problems.
Pigeon prevention tips
To prevent pigeons from taking over your property, you should:
Clean gutters to prevent standing water; remove other areas of standing water around your property.

Remove food sources from your property.

Keep tight fitting lids on trash cans.
Request Your Free Estimate