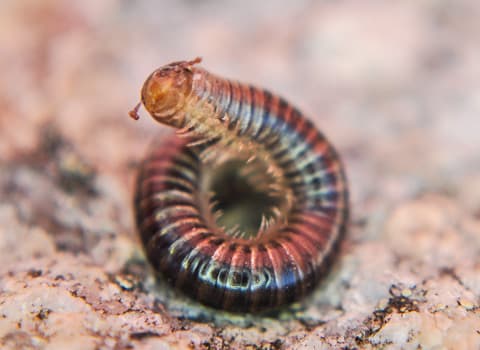 What do millipedes look like?
Dark brown in color, millipedes have a similar shape to a worm, round and long. Unlike worms they have many legs. If they are threatened or dead, you will see them tightly coiled.
Are millipedes dangerous?
There is no danger associated with these nuisance pests; they do not bite or sting humans.
Why do I have a millipede problem?
Millipedes generally live outdoors in moist areas underneath items like rocks and logs; however during the fall and spring months and periods of heavy rain, you might see them move in.
How do you get rid of millipedes?
For help with nuisance pests including millipedes, contact the Albany pest control pros at Thomas Pest Services. With 3rd generation experience, you can count our team of New York pest control experts to get rid of millipedes and other insects and rodents that have taken up residence.
Millipede prevention tips
To prevent millipedes from infesting your home or structure you should:
Seal cracks and crevices in your home or structure's foundation.

Remove organic debris like rocks, logs and similar items that are near the exterior of your home.
Request Your Free Estimate