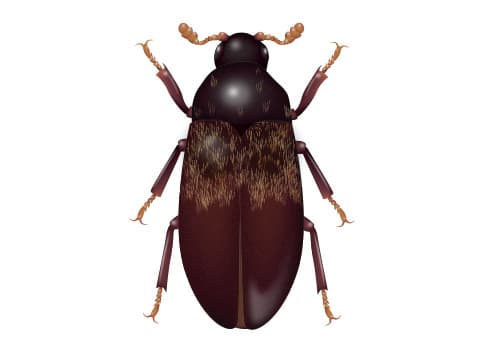 What do larder beetles look like?
The larder beetle is oval in shape and possess a rounded dome. It is dark brown to black in color with a light yellow colored band running across its wing cover. The yellow band has several dark spots in it. They join Indian meal moths and cigarette beetles in being classified as stored product pests.
Are larder beetle dangerous?
Larder beetles do not bite or sting humans; they will however contaminate your stored food products, especially cured meats and cheeses. They will also feed on other items in your home like feathers, skins (gross but true), and dry pet food.
Why do I have a larder beetle problem?
Larder beetles often arrive in homes on already infested items purchased at the store. They will also enter through small cracks and crevices in your home while searching for food; they prefer to live in dark areas of your home including attic spaces and in wall voids.
How do you get rid of larder beetles?
If you've noticed pests in your pantry, contact our Albany pest control company for proper identification, control and prevention. Our residential pest control services are designed to target the insects and rodents homeowners in the Capital District and Adirondack region encounter.
Larder beetle prevention tips
Larder beetle prevention starts outside of the home but also includes correcting a few conditions in and around it as well. You should:
Inspect dry goods from the store before bringing them into your home. Check for holes, rips or tears in packaging.

Seal cracks or crevices found in your home's foundation.

Caulk and gaps around exterior windows and doors and inspect screens for rips or tears.

Store pantry items in sealed containers instead of their original packaging; regularly go through and rotate your pantry and food items.

Routinely vacuum and dust.
Request Your Free Estimate