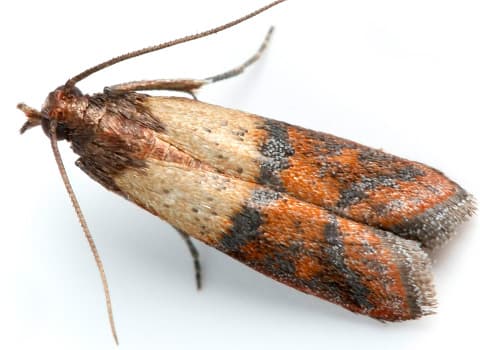 What do Indian meal moths look like?
Indian meal moths are a gray colored moth and have brown colored wing tips. The young caterpillar is cream in color with a brown head.
Are Indian meal moths dangerous?
Indian meal moths do not bite or sting humans, and are considered to be stored product pests. They earn the classification of pest because they commonly infest and lay eggs in flour and other kitchen staples causing these items to become contaminated.
Why do I have an Indian meal moth problem?
Indian meal moths often enter your home in already contaminated products that you bring home from the store. They will also enter through small cracks and crevices while searching for food.
How do I get rid of Indian meal moths?
Contact Thomas Pest Services if you need help getting rid of Indian meal moths. We offer residential pest control services in Albany and throughout our service area that are designed to target household pests including Indian meal moths. Our expert exterminators will eliminate your pest problem quickly and efficiently.
Indian meal moth prevention tips
To prevent Indian meal moths (and other stored product pests) from invading your home you should:
Inspect dry goods that you purchase from the store before bringing them into your home; make sure there are no rips or tears in the bags or boxes.

Store dry goods in sealed containers, not in their original packaging.

Regularly inspect and rotate your pantry items using oldest first.
Request Your Free Estimate