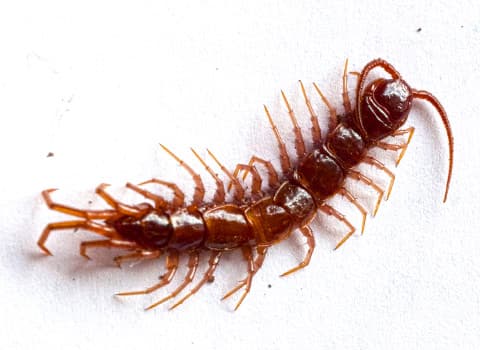 What do centipedes look like?
While their name would suggest they have a hundred legs, Centipedes, depending on the species have anywhere from 75 to 150 legs but are also commonly referred to as "thousand leggers". Centipedes have a flat, segmented body that can be gray to a brownish yellow in color. They have one pair of long thin legs per segment.
Are centipedes dangerous?
Centipedes do have the ability to bite but rarely if ever do, they are not considered to be dangerous to humans.
Why do I have a centipede problem?
Centipedes like to live in moist areas, but when there are heavy rains and the ground becomes too saturated with water they will move indoors. They will enter into basement areas through cracks in your home's or building's foundation. They are one of many insects we in the pest control industry like to call occasional invaders.
How do you get rid of centipedes?
If "thousand leggers" or other occasional invaders are infesting your home, contact Thomas Pest Services today. Getting rid of centipedes can be accomplished by signing up for our residential pest control services. For centipede control in Albany, Saratoga or elsewhere in the Capital District and Adirondack regions, trust the pest control experts at Thomas Pest Services.
Centipede prevention tips
To prevent centipedes from invading your property you should:
Seal any cracks or crevices that are visible in your home or buildings foundation.

Keep gutters clear to make sure that they are directing water away from your building.

Keep logs, rocks and other organic material away from the exterior of your home or building, these are environments that attract centipedes.
Request Your Free Estimate