Zachary Whiting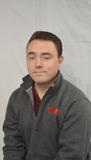 Pest Management Professional
- Since 2022
About Zachary
Hello, I am Zack!

I have been in the industry a few months prior to coming to Thomas Pest Services. I really enjoy treating ants, so they are my favorite pest. I enjoy the pest management industry because I get to find solutions to why people have pests.

When I am not working, I enjoy jet skiing, walking, skydiving (that is my favorite thing to do), and video games. I come from a loving family who loves to joke around!

Daily Goal: To go home at the end of the day tired from all the hard work I completed.