Zachary Hall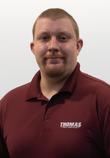 Pest Management Professional
About Zachary
Hello, my name is Zack.

I have been in the pest management industry since 2020, but am eager to learn.

I enjoy the pest management industry as I am always on the go. Each account is different! I never know what I may find. Sometimes I find my favorite pest(s), the rodent (mice or rats).

When I am not working, I am with my family. My wife and I have a son, Zayne along with two dogs, two cats, one snake and four lizards. We are animal lovers, can't you tell! I also enjoy being outside, hiking, kayaking, bird watching, golfing and basketball.

My daily goal is to always enjoy the day no matter what comes my way. I also try to learn something new each day.