Victor Bermudez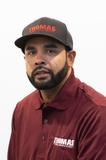 Pest Management Professional / Special Projects
- Since 2019
About Victor
Favorite Pest: The mouse!

Pest Management Likes: Resolving problems for a safe and clean environment.

Family: I have three boys: 15, 5 and 4. My family is very active, we love to be outdoors and all boys are active in sports.

Favorite Hobbies: Fishing and sports.

Daily Goal: Do at least one good deal a day. Getting home to by family safely is always my goal too.