Tom Cooney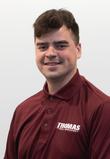 Pest Management Professional
- Since 2020
- Quality Pro Certified
- - NYS Licensed
About Tom
I have 2 years experience in the industry.

Favorite Pest: Raccoons. They are adorable little critters that look like and sometimes act as criminals.

Pest Management Likes: Everyday there may be a new challenge.

Family: I grew up in and around Albany.

Favorite Hobbies: I enjoy having cook outs with friends and family and ending the night with a bonfire.

Daily Goal: Take care of all customers to the best of my abilities.