Rick Roseberger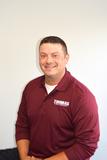 Service Supervisor
- Since 2022
About Rick
Hello, I am Rick!

I have been in the pest management industry for three years. During that time, I learned to grow fond of wasps and carpenter ants. I have also learned that I enjoy the pest management industry because I get to meet new people and thier dogs and no day is ever the same!

When I am not working I am spending time with my son. We are a Marine Corp family who enjoys hockey, fishing, and going on adventures.

My daily goal is to do a great job and help people with their pest problems!