Michael Sanchez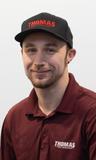 Pest Management Professional
- Since 2020
About Michael
Hello, I am Mike!

The pest management industry is unique, a very interesting line of work. My favorite pest is silverfish. Silverfish are mainly a nuisance pest, but can cause damage.

I have a small close-knit family, who resides in the Catskills. I enjoy snowboarding, soccer, camping, fishing, hiking, backpacking and gaming. I am a fan of being outdoors, one of the reasons I chose this job!

My daily goal is to stay motivated and do the best I can!