Michael Frenyea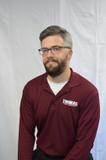 Pest Management Professional
- I have been with Thomas Pest since 2022
About Michael
Although I am new to pest control, I am looking forward to using my problem-solving skills to get rid of pests.

I am the seventh out of eight children in my family and I have a twin brother! My twin brother, Paul works for Thomas Pest Services too!

Some of my favorite hobbies are going on walks, spending time with family and friends, good beer, watching baseball, and gaming.

Daily Goal: To learn something new and to always better myself.