Luis Perez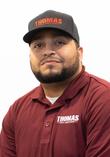 Pest Management Professional
- Since 2021
About Luis
Hello, I am Luis!

I come to Thomas Pest Services with four years of experience.

There are many things I enjoy about the pest management industry, one being ants. I also enjoy the way I can help customers and make them safe in their homes.

When I am not working I am with my big family. We are loud, joyful and spend a lot of time together. I also like to fish, hike and do anime.

My daily goal is to supply a good life for my family!