Lenny VanDyke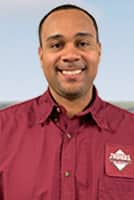 Pest Management Professional
- Since 2018
About Lenny
I have been in the industry for 2 years!

Favorite Pest: Bees, its the best to have the satisfaction when you have killed the nest.

Pest Management Likes: Solving pest problems.

Family: I recently got married to my wife, Porscha. I have 3 children, Sianna, Romelo, Julianna and a dog, Coco.

Favorite Hobbies: Playing basketball.

Daily Goal: To be responsible, effective and always have a positive attitude each day.