Katie Ward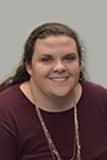 Administrative Assistant
About Katie
I am new, but excited to be in the industry, now working with family and gaining knowledge, experience and in pest management.

Favorite Pest: Squirrels - we helped a baby that was orphaned by its mom. We got it to someone that rescued squirrels and she raised it and it lived.

Pest Management Likes: Helping people!

Family: I enjoy time with my parents and younger sister.

Favorite Hobbies: Crocheting, walking my dog and babysitting.

Daily Goal: Learn new things and help customers.