Justin Gaul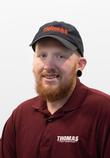 Pest Management Professional / Wildlife Control Specialist
- I have been with Thomas Pest Services since 2017, but spent several years in the industry.
- NYS Wildlife Licensed
About Justin
Favorite Pest: I do not have a favorite pest. All pests are different and come with different challenges, and I enjoy trying to figure out those challenges.

Pest Management Likes: Ability to meet new people and have new issues to solve each day.

Family: I have two children, a girl and boy. I have been with my better half for over eight years!

Favorite Hobbies: Spending time with my family and exploring new areas.

Daily Goal: Make the best of everyday, no matter what!