Greg Burgoyne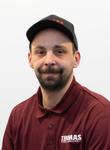 Pest Management Professional / Wildlife Control Specialist
- Since 2022
About Greg
Hello, I am Greg!

I come to Thomas Pest Services, green to the industry. However, I enjoy meeting new people and being able to enhance their lifestyle by providing great service.

My favorite pests are small rodents, squirrels, and raccoons.

When I am not working, I am spending time with my family, especially my teenage daughter who is very active in sports, and my two-year-old son. I enjoy sports, working on cars, hiking, and kayaking.

My daily goal is to achieve all the tasks put in front of me for the day and to improve each day.