Bill Clark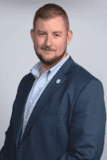 President
- 10 years
- NYS Licensed (4 Categories) / NYS Wildlife Certified
- Associated Certified Entomologist
- Quality Pro, GreenPro, QualityPro School Certified
- New York Pest Management Board of Director
About Bill
Favorite Pest: Bed Bugs. I enjoy getting to put our new bed bug heat equipment to use. In the morning a customer can have bed bugs, by the end of the day I can give them back their home and belongings bed bug free!

Pest Management Likes: The industry is always evolving, so much has changed from when my wife's grandfather was in business compared to, today. Every day I learn something new. Most importantly, the industry is how I met my wife!

Family: My wife, Sarah, daughter Riley and son Jaxon.

Favorite Hobbies: Since our days our long, spending time with my wife, daughter and dog are the best! Whether we spend time around the house trimming bushes, going for a walk, watching the Yankees/Cowboys or visiting the family cabin, I enjoy it all. I do enjoy a good game of whiffle ball or golf.

Daily Goal: To educate people about the pest management industry and aid them in preventing insect or wildlife infestations.