Anthony Siewert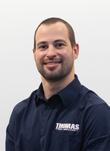 Service Supervisor
- Since 2020
About Anthony
Hello, I my name is Anthony!

I came to Thomas Pest Services with a landscaping background, which is similar to the pest control industry. My favorite pests are wasps because I'm fascinated by how many variations there are and how they function.

My family are my favorite people! They are so supportive of me and are always a joy to be around. They are funny, smart and all have a big heart.

Some of my hobbies include spending time outdoors doing various activities, tinkering around with projects at home and mountain biking.

My daily goal is to "get rich or die tryin."