Johnstown, NY Pest Control
Having trouble with pests in Johnstown?
Insects, rodents, and wildlife critters are annoying and potentially destructive but you don't have to put up with them. Contact Thomas Pest Services for pest control in Johnstown and say goodbye to your pest problems. Simply click on the free estimate button to get started!
Free Estimate OR CALL (518) 458-7378
Pests Active in Johnstown
Residential Pest Control In Johnstown, NY
Protecting your Johnstown home from pests is something that should be left up to an experienced professional like Thomas Pest Services. We know how to find, accurately identify, treat, eliminate, and prevent problems with pests that are common to the region. Thomas has carefully developed a variety of residential pest control services to keep pests out of homes.
Complete Care - This year-round program focuses on providing treatment for common household pests. Our technicians provide interior and exterior treatments every other month, minor exclusion services, and the monitoring of all living areas. It also includes termite monitoring, offering the most comprehensive protection possible for your home.

Exterior Pest Guard - This seasonal service works to protect your home from pests by focusing on exterior treatments; helping to stop pests before they have the chance to enter your home.

Rodent Control - This program provides services every other month to help you maintain a rodent free home.
To learn more about our residential pest control solutions, reach out to Thomas Pest Service today.
Protect Your Johnstown, NY Property From Carpenter Ant Damage
Carpenter ants are a destructive species of ant that typically find their way into homes while foraging for food sources, once inside they often decide to invade structural wood (especially if it's water-damaged) to tunnel through and create satellite nests. As time goes on, they will create more and more damage that can become quite costly to repair. To get rid of carpenter ants from your Johnstown property and home, Thomas offers highly effective carpenter ant control services. To begin, our professionals complete a thorough interior and exterior inspection, they then design and implement a treatment plan that is unique to your property. Treatment may include applications to cracks and crevices on the interior and exterior of the structure. After the initial infestation is eliminated, we recommend putting in place an on-going carpenter ant maintenance program to prevent future problems. To learn more about protecting your property from carpenter ants with the help of our customized carpenter ant control services, call Thomas Pest Services today.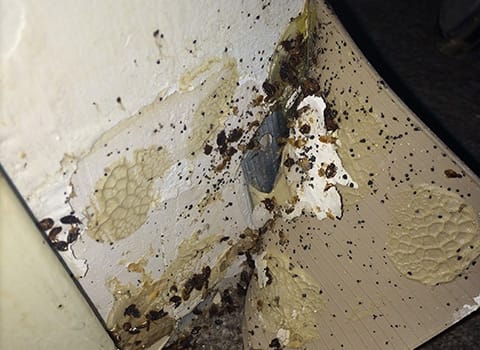 Commercial Pest Control In Johnstown, NY
Partner with the Adirondack region's premier pest control company to protect your Johnstown business from being invaded and damaged by a wide variety of pests including:
Spiders

Ants

Rodents

Roaches

Flies

Bed Bugs

Termites
Thomas provides full-service pest control solutions which include thorough inspections, pest identification services, sanitation services, cultural, mechanical and biological control services, and 24-hour monitoring protection. Other benefits to choosing Thomas Pest Services for your business's commercial pest control needs include fast service, the knowledge of experienced professionals, and guaranteed services. To maintain a zero pest policy inside your Johnstown business, give the professionals at Thomas Pest Services a call today.
Learn How To Avoid Bed Bugs In Johnstown, NY
Avoid bed bug problems in your Johnstown home by partnering with Thomas Pest Services and our highly effective bed bug control services. We can eliminate and control problems with bed bugs through our comprehensive solutions. Our bed bug treatment options may include a combination of the following: heat treatments, mattress encasements, and Climbup Insect Interceptors. In addition to our professional services, including routine inspections, we would like to offer you some helpful bed bug prevention tips:
Keep personal belongings up off of the floor of public places.

Routinely wash and dry outerwear that you and your family wear on a regular basis on a high-heat setting.

Do not purchase used furniture, mattresses, or box springs.

Immediately wash clothing (new or used) after purchasing it.

Inspect hotel rooms for signs of bed bugs before bringing suitcases and other belongings into it.
Request Your Free Estimate