December 23, 2014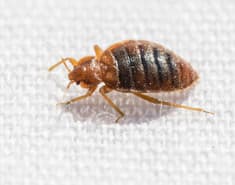 Bed bugs, also referred to as "wall lice", strike fear into the heart of any homeowner. If you've ever woken up with a rash on your face, neck, or side, you know what I'm talking about. Dread will immediately fill every part of your being. That is because bed bugs have earned a reputation. These are filthy and invasive bugs. But here are 5 tips that should calm your bed bug fears.
Bed bugs are not vectors for disease, as many think. With all the hysteria around bed bugs you'd think they were connected to a modern day black plague. Though these bugs prefer bacteria infested environments, they are not known to carry human spread diseases, like mosquitoes do.

Bed bugs don't have venom. You don't have to worry about getting sick from poisons or venom. Bed bugs have a bite that is similar in many ways to a mosquito bite. These bites are itchy, and can have a large rash around them, but they are otherwise harmless.

You can protect yourself from these bugs when you travel. Some people don't travel, for fear of bed bugs. But you needn't worry. With this checklist, you'll be safe.

Check your accommodations through bedbugregistry.com

Inspect beds for brown seed-like bugs.

Examine sheets and pillowcases for dark brown, dried blood stains.

Check for black residue on the seams or edges of your mattresses and box springs.

Check the seams of your luggage for bugs, before you packed to go home.

When you get home, wash and dry all of your clothes on the hottest temperature.

You can have your home or business inspected, and protected. You don't have to live in fear of bed bugs at home or in your business. Thomas Pest Services, in the Albany area, can set out Insect Interceptors that detect bed bug activity, or inspect your home or business with bed bug sniffing canines. Sign up for scheduled visits, and set your mind at ease.

If you have an infestation, help is on the way. Thomas Pest Services has several tiers of bed bug treatment. Their goal is to handle your treatment discreetly and with the least amount of hassle to you and your family.
Bed bugs can be a nightmare, but with K9 inspectors, Insect Interceptors, mattress encasements, limited pesticides, heat treatments, and a knowledgeable team of certified and licensed professionals, Thomas Pest Services has what you need to eradicate those bugs fast and quietly.
Request Your Free Estimate