Bed Bug Tips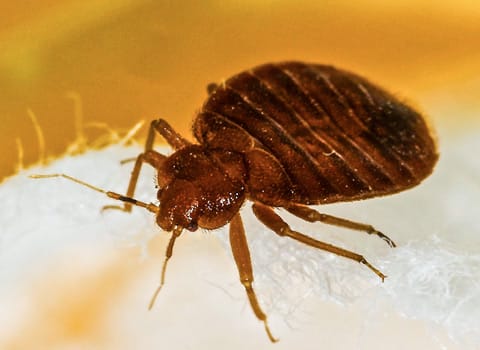 Here at Thomas Pest Services, we get a lot of questions about bed bugs. From "what do bed bug bites look like?" to "how should a company handle a bed bug complaint?" and everything in between. Do you have questions about these pests? Browse through our helpful tips or simply give us a call. We'd be happy to provide an answer.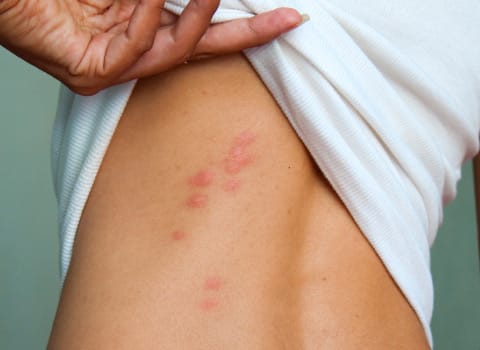 General Bed Bug Questions
What do bed bug bites look like?
While there may not be any indication of a bed bug bite for some individuals, commonly bed bug bites appear as red, itchy welts. Sometimes they'll show up a few or several in a row; this is sometimes referred to as breakfast, lunch and dinner.
What should I do if I have bed bugs?
If you find bed bugs in your home, do not move to another room or relocate to another location. Bed bugs can go over a year without a blood meal, so moving to another spot will only spread the problem. Contact us for help getting rid of bed bugs.
Should I throw out my mattress?
If you've found bed bugs on or in your mattress simply throwing it away will not solve your bed bug problem. Bed bugs are not contained to just beds; they will infest upholstered furniture, nightstands, bed frames and other furniture as well as electronic items. They also hide out behind wall art, inside outlets and among other belongings. So you see, if you throw out your bed but don't take care of the rest of the problem, bed bugs will continue to persist and will actually make their way to your new mattress.
Avoiding Bed Bug Infestations
How can I avoid bed bugs while traveling?
Homeowners often bring bed bugs home from vacation or from a business trip so it makes sense to focus on bed bug prevention before, during and after traveling. Here are a few tips to help keep these biting pests out.
Before you leave for your trip, install bed bug mattress and box spring encasements; this will prevent bed bugs from nesting in your mattress and box spring if you do bring them home with you. Purchase heavy duty plastic bags and upon returning, place luggage in the bag(s) and then into the car; this will prevent bed bugs from nesting in your vehicle or infesting your home. Use hard shelled luggage as it is less appealing to bed bugs than fabric.

Reducing your risk is very important when you initially arrive at your destination. Do an inspection around the mattress and box spring looking for live bed bugs, blood stains on the bed and small black marks. In hotels, look at the headboard, which usually lifts up. If you see bed bugs or signs of bed bugs, notify management and request a new room on a different floor. Keep luggage closed and away from bed bug prone areas. Items which cannot be laundered like toiletries, jewelry, books and electronics, should remain in sealed Ziploc bags when not in use.

Upon returning home from your destination, remember to put luggage in heavy duty plastic bags before placing in the car, sealing tightly to keep bed bugs inside. Do not take luggage inside your home. Find a location that is well lit, away from furniture and sleeping areas. It is best to unpack outside or on the garage floor so that if bed bugs did hitch a ride, they won't make in inside the house. Wash all clothing in the hottest temperatures the fabric will allow. Before putting the luggage away, inspect it looking around the zipper areas for eggs, live bugs or black spots. As you get settled in after your trip remember to inspect the mattress and box spring encasements in the proceeding days to see if there is any evidence of bed bugs.
Bed Bug Tips For The Hospitality Industry
How does a hotel become infested with bed bugs?
In many cases, guests carry bed bugs into hotels without knowing. Bed bugs are transported by infested luggage, clothing, blankets and pillows. Hotels, bed and breakfasts, and other commercial lodgings experience high turnover rates, increasing their vulnerability to infestation. No hotel is immune to a bed bug infestation.
How should a hotel respond when a guest complains about bed bugs?
The Department of Health and Mental Hygiene suggests hotels hire pest management professionals that are licensed to perform inspections and quickly address infestations when they occur.
What should you do when a bed bug complaint is received?
Inspect the guest's room, luggage and clothing. It is also important to inspect adjoin rooms, the infested hotel room and if the guest was moved, to the new room.

Wash all bedding, curtains, rugs, towels, and bathrobes in the hottest water and dried on the hottest recommended cycle to kill all stages of bed bugs.

Treat mattresses, scrubbing to remove bed bugs and their eggs. Follow up with a HEPA vacuum on mattresses, bed frames, furniture, floors and carpets. Pay special attention to cracks and spaces. Remember to throw vacuum bags in an outside receptacle so that bed bugs can't crawl out.

Place infested mattresses or box springs in special bed bug mattress covers.

Take all infested items and discard to prevent further infestation.

Repair cracks in plaster, loose wallpaper or damaged furniture with caulking material.

Re-inspect the room, upon guest vacancy and on a regular basis to ensure that bed bugs are gone.
How can I keep the hotel's furniture from spreading infestation?
Never resell or donate infested bed bug furniture. This will only spread the epidemic.

When throwing away infested mattresses, box springs, or other items you should cut holes or damage the items so they can't be reused, seal items in a large plastic bag to prevent spreading bed bugs or eggs during transport.
Request Your Free Estimate