Ballston, NY Pest Control
Having trouble with pests in Ballston?
Insects and rodents are annoying and potentially destructive but you don't have to put up with them. Contact Thomas Pest Services for pest control in Ballston and say goodbye to your pest problems. Simply click on the free estimate button to get started!
Free Estimate OR CALL (518) 458-7378
Pests Active in Ballston

Residential Pest Control In Ballston, NY
At Thomas Pest Services, we have the services, dedication, and modern technology needed to find, treat, and eliminate any sized pest infestation. Our year-round Complete Care Program focuses on providing treatment for common household pests. Through the Complete Care Program, our technicians provide interior and exterior treatments every other month, minor exclusion services, and monitor all living areas. This comprehensive program also provides termite monitoring for a complete solution against household-invading pests. Our seasonal Exterior Pest Guard service works to protect your home from pests by focusing on exterior treatments to help stop pests before they have the chance to enter your home. Our targeted rodent control program provides services every other month to control dangerous and damaging rodents in and around your Ballston home. To learn more about our residential pest control solutions and how they work to solve pest problems once and for all, give us a call today and speak with one of our friendly professionals.
Protect Your Ballston, NY Home From Carpenter Ant Damage
Carpenter ants are large, black, red, or black-and-red-colored ants that are attracted to properties that offer them food, water, and shelter. Garbage, compost piles, gardens, woodpiles, moist soil, fallen trees, and tree stumps can all attract carpenter ants to your property. Once on your property, it is only a matter of time before they find their way inside to forage for food in your kitchen and pantry areas. These ants are attracted to wood that has been damaged by water, in which they will create tunnels and satellite nesting areas close to their new-found food sources. To eliminate these destructive ants from your Ballston property, Thomas's professionals complete a thorough interior and exterior inspection, then design and implement a treatment plan which is unique to your New York property. After the initial infestation is eliminated, we highly recommend putting into place an on-going carpenter ant maintenance program to prevent future problems with these damaging ants. Get in touch with us today to learn more about protecting your Ballston property from carpenter ants with the help of our customized carpenter ant control services.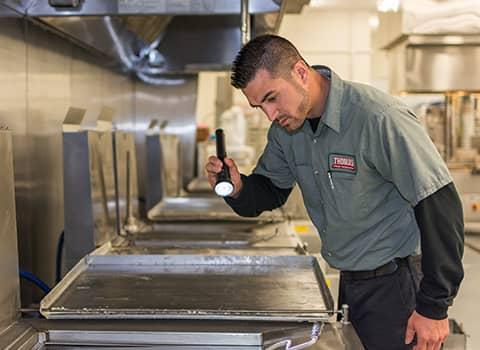 Commercial Pest Control In Ballston, NY
With the help of Integrated Pest Management (IPM), the highly trained professionals at Thomas Pest Services provide the commercial pest control solutions needed to remove and keep pests out of your business. To protect your business from pests, we pay close attention to your facility and your company's unique needs and develop a customized solution which may include:
Inspection

Pest identification

Sanitation

Cultural, mechanical, and biological control techniques

24-hour monitoring protection

Exclusion

Reporting
By choosing Thomas Pest Services to meet your Ballston, NY business' commercial pest control needs, you can have the peace of mind to know that you will be provided with fast and guaranteed services performed by our highly trained and professional experts. Partner with Thomas Pest Services and your business will soon become and stay free of invasive, destructive, and reputation-damaging pests. Reach out to us today to schedule your free estimate!
Guide To Avoiding Bed Bugs In Ballston, NY
Bed bugs are found where people gather. Libraries, movie theaters, schools, hospitals, dormitories, airports, hotels, and shopping centers can all be home to populations of bed bugs. Don't choose to avoid bed bugs by never venturing into public again, instead take some easy precautions to help avoid coming into contact with these apple-seed shaped pests and avoid accidentally introducing them into your Ballston home.
Don't leave your personal belongings or outerwear lying around on the floor; keep them with you and up off of the floor. Bed bugs can easily crawl onto belongings located on the floor.

Teach your kids to keep their belongings in their assigned locker, cubby, or on their hook. Regularly wash their outerwear and backpacks.

Before entering a hotel room, inspect it for signs of bed bugs before bringing your luggage and other personal belongings into it.

Never purchase used furniture, mattresses, or box springs for use inside your home.

Vacuum your home daily to help eliminate any stray bed bugs that may find their way in.
If these pests do sneak their way into your home, we have the bed bug services and solutions needed to quickly eliminate them. These services include identification, inspections, response planning, heat treatments, mattress encasements, and Climbup® Insect Interceptors. To speak with one of our professionals about bed bugs and how we can help eliminate them, give us a call today.
Request Your Free Estimate